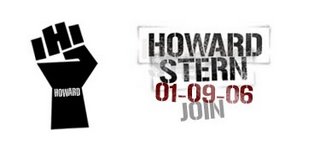 This is the most comic drama I have ever seen. I have been lucky enough to be able to watch the whole thing from day one. I know why people watch Soap Operas now, the drama is compelling.
This whole situation has really been going on for years, but has been building up over the past 18 months or so. I will be honest; I was worried that now that Stern is at Sirius, the drama would be gone in my morning drive to work.
Well, I was wrong. It seems Howard carries drama wherever he goes. Why do people react this way to him? I had started to write-up a whole viewpoint on the situation and my thoughts on what is going on with CBS Radio and why they are being so fucking retarded. Well, I put together a few paragraphs and started to work on my viewpoint. Which is not unique, since I have yet to find someone in the general public, including Jack Thompson and Kevin Martin, that think the CBS lawsuit is not totally ridiculous.
Well, I was reading
Cultured State
, one of the most underrated blogs out in the blogosphere. Vent dissects the story and takes a shot at giving a real independent view of what is going on. It covers everything I wanted to say, but much more elegantly. Take
a read
.